What Families Say...
"I wanted to tell you that you both are truly great teachers, leaders, and friends. After the experience of having you both teach my girls I can't imagine sending them to anyone else! I know both of you are so personally dedicated to not only the profession of teaching, but of running a really great school (great is such a lame word, but there are too many other adjectives so great will have to sum them up for me). ....So thank you!! … I have complete confidence in both of you, in both your teaching abilities, and love of your students… I know you would both jump in front of a train for any of the kids. Thank you for showing our family so much love and generosity over the past few years, and thanks for being fantastic 2nd parents to them." The Crook Family, Renton WA


I remember the day we toured Village Schoolhouse. Based on other preschool tours we had taken, I expected a fifteen minute cursory tour. My then-almost-3-year-old son Tristan and I walked in and it felt like walking into a warm embrace -- a family! Tristan was instantly welcomed and included by Mrs. Wilson and the children of the class. Two hours later we walked out knowing without any doubt that this was the preschool for our family. Heck, I wanted to go there too! While attending the year-end graduation celebration, my husband Greg, who was skeptical about paying for private school, finally understood what I had been gushing about. He also felt the warmth and love of the families of the school and told me, "I'd work two jobs if I had to to make sure Tristan goes to this school." Now as we come to the end of our third year and the end of Tristan's preschool years, we are even more in love with Village Schoolhouse. Originally we anticipated moving him to public school after preschool, but because of our experience and Tristan's academic and emotional growth we've decided he'll continue upstairs in the Academy until he graduates from 8th grade!

One of my favorite things about Village Schoolhouse is that the children work at their own pace. This has allowed Tristan's love for learning to swell, broadening while at the same time narrowing in. Because he's so naturally inclined toward math I worried that Tristan might not show interest in reading, especially if he was allowed to choose his work. I'm beyond pleased to see his advancements and continued enthusiasm in math, not being stalled while other children catch up, and even more so thrilled to see his newfound excitement and eagerness to learn to read and write. Mrs. Wilson has an almost supernatural instinct, knowing when to push the children and when to back off. As Tristan says, "Mrs. Wilson just makes reading easy peasy!"

Another favorite thing about Village Schoolhouse is the mixed ages. There are huge benefits beyond my expectations. I've seen great strides in the confidence, social skills, compassion, and patience of the children. When the big kids help the littler ones it instills pride and solidifies their grasp of the subject matter when they have to "teach" it. And with the attention of the older kids, the little kids feel valued and have grace, tolerance, and courtesy modeled by their peers. Bullying is an epidemic in American schools yet with the philosophy of inclusion, empathy, and thoughtfulness that Village Schoolhouse teaches, it doesn't exist here. I wish Village Schoolhouse was the model for all schools. Imagine if children's excitement to learn was never disregarded, beauraucratized, stifled, or worse smothered entirely.

Calkins Family- Issaquah Plateau


"All 3 of our daughters have happily, eagerly, attended The Village Schoolhouse. After visiting and interviewing 9 other schools, the warm, nurturing, encouraging atmosphere of The Village Schoolhouse is what immediately stood out. Children happily working at their own pace on individual works that are interesting and meaningful to them. The multi-age model at the school allows for the children to teach, learn from, and nurture one another. Grace and courtesy, kindness and respect are modeled and adhered to eagerly. I believe that ALL children have their own unique gifts and talents, and each of our girls' individual gifts were recognized, celebrated, and enhanced. Each child is encouraged to work at his/her own pace, at his/her own ability levels, and thereby always feel capable and successful! Our 2 older daughters (ages 10 and 8) have recently been tested, and have been identified as being "gifted." For example, Lily was reading and comprehending 3rd grade level chapter books at age 4! Her preschool teacher, Mrs.Wilson, recognized her "giftedness" well before anyone else (even me!), and she encouraged and supported Lily in working and achieving way beyond her grade level. At another school, a child such as Lily may very well have become bored or discouraged, but never at The Village Schoolhouse! Chloe and Lily both benefitted from such a solid foundation in their early education; a foundation and a confidence that has carried over through their subsequent school years. Both look back often, and warmly, on their preschool experiences, and feel jealous of their baby sister, Delaney, who is now enjoying (and greatly benefitting from) going to what our family refers to as "the best school EVER!"

The Barber Family- Redmond

ecopyright year © 2015 villageschoolhouse
Powered by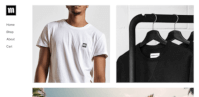 Create your own unique website with customizable templates.